We know you have many schools to choose from. Our intent with this page is to help you make the most educated decision on which school and courses to choose. Just let us know if you have additional questions – we are eager to assist you.
WHY CHOOSE LEARN TEXAS REAL ESTATE ONLINE?
1) HIGH PASS RATE:
Learn Texas Real Estate Online specializes in pre-license training for new agents. For over eight years, the Texas Real Estate Commission (which regulates all real estate schools in Texas) has been measuring the Texas real estate license exam pass rates by each school.  During that time, we've held a leading position for schools that produce the highest percentage of students passing the licensing exam. Therefore, we've offered a 100% money-back guarantee for several years. Students must take all 6 courses and the exam prep with us, as well as the license exam within 6 months in order to qualify for the guarantee. 
86.49% is our current pass rate. The average for all schools is 61.25%.
"I passed both portions of my test earlier this week! Thanks, Diana for all of your help throughout this process – it was a really great experience I had using your course and I really appreciate how responsive you and your team have been throughout".    ~Claire

Some other schools have stringent rules to qualify for their money-back guarantee (if they even offer one). Among the top 5 competitors (based on TREC's licensing exam pass rates) three offer a money-back guarantee and one of those requires you to fail the Texas real estate licensing exam 3 times to qualify. Another school only refunds the cost of your failed state license exam. Just take the 6 courses and exam prep with us, as well as the state license exam within 6 months, and pass on your FIRST try or your training cost is refunded back with Learn Texas Real Estate Online!
Texas Sales Agent Pass Rates
7/1/20-6/30/22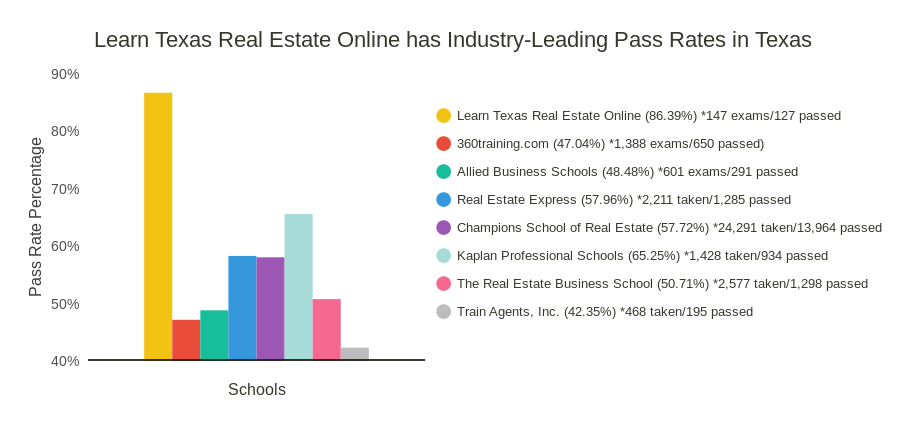 The schools listed above are only a representation of the providers who provide education. You can access a complete list of education providers and their pass rates here: TREC Provider Exam Pass Rates
2) EXCELLENT REPUTATION:
Other real estate schools may have a similar (though still lower) pass rate to ours. However, if you do a google search on their full company name you will find that they have complaints filed with the Better Business Bureau and Ripoff.com. Some use a review company that is known to sell only positive reviews and remove negative ones. Do your research when you see a 3rd party review company referenced. Check out DIRECT student feedback on these sites to see how students feel about their services or products. You will not find our name on any complaint site.
3) TOP NOTCH TEXAS REAL ESTATE COURSES:
We partner with and offer Dearborn's online Pre-license courses. These are delivered over the internet with nothing to download, so you can access them with any computer, laptop or smart device.
Dearborn has been the perceived leader in Real Estate training for over 55 years, having produced the books that instructors use in the classroom for most of that time. Ask any classroom instructor what books they prefer and they will likely say "Dearborn". Ever heard of Kaplan University? They also use Dearborn's courseware but be sure to compare pricing and state exam pass rates on any competitor you are considering.
Once you finish your training with us, you will also see that both TREC and PearsonVue (the Texas real estate state exam provider) suggest additional materials to prepare you for the sales agent exam and many are written by Dearborn as well!
What we offer are their online courses and exam preps. Many real estate instructors consider Dearborn's materials to be the best training in the real estate agent education market. If you are considering other schools, ask them if they are using Dearborn's courses. If they aren't, get as much information as possible on who wrote and produced each of their courses. Most schools won't provide you with many details in this area.
PRE-LICENSE PACKAGE OPTION 1:
This most popular package includes the 6 required courses: Principles of Real Estate I and II (including over 70 NEW video clips), Law of Agency, Finance, Contracts and Promulgated Contract Forms, plus the Pearson Vue national and state license exam preps – with access to all for 6 months.
In addition, we now offer these items at NO COST TO YOU:
One hour per week of an Interactive Study Group, led by a national instructor. Shortly after you register, you will receive an email titled PLEASE READ: Critical Pre-license Course Details. Be sure to read this, as it will tell you more about how the sessions work and provide you with upcoming dates and topics to be covered.
ALSO: Our no-risk 24-hour trial/refund policy applies to this package. Just notify us via email that you no longer want the program within 24 hours of your enrollment and we will issue a full refund, no questions asked!
For the Option 1 pre-license package, our price is $399 or $459 with online proctor services included (see our Proctoring page for more details). AND we offer a guarantee that you will pass the state exam on the first try or your money back! *
Ask other schools what their prices are – you won't likely find another school with lower pricing on Dearborn's online courses. *To qualify for the guarantee all you have to do is take your 6 courses and exam prep with us, as well as the licensing exam within 6 months of purchasing your pre-license package.
The Texas Real Estate Commission requires all 6-course final exams to be proctored. We give you the choice of having your own proctor (sometimes for free) or utilizing our online proctor partner. To our knowledge, no other school provides these 2 options. Please visit the "Proctoring" page on our website for more details.
Make sure you have an exam prep included in any package you purchase. The exam prep is crucial to your success. Ours has recently been completely updated and redesigned to be very similar to the PearsonVue licensing exam format. Our exam prep familiarizes you with the format they use and greatly increases your odds of passing the state exam on the first try.
The exam prep covers both the state-specific and national portions of the Texas Salesperson exam. It is called the "Q-Bank" and it has over 1,400 questions to choose from so you will be fully prepared for the state exam. You can even customize the exam prep to focus on a particular topic and the correct answers are provided in this product.
By the end of your training, you will have spent at least 180 hours of time (required by TREC) on your courses. However, the state licensing exam should only take you 1-1.5 hours to complete. The exam prep helps you put aside information you won't need to remember and to focus on what is actually covered on the state exam.
This product is SO good, we often have students who took their courses elsewhere, failed the state exam multiple times, and then come to us for advice on how to pass it. They purchase our Q-Bank and pass it on the first try!
PRE-LICENSE OPTION 2:
If you can't afford the $399/$459 package, we now offer an inexpensive pay-as-you-go option that no other online school in Texas offers. Purchase each course individually as you can, for only $99/$109. Upon the completion of your 6th course, you will receive the PearsonVue Q-Bank exam prep tools for FREE (a $99 value)!
Be aware that the items NOT included in this offering are:
-No money-back guarantee
-No weekly Interactive Study Groups
-No 24-hour trial/refund period
4) EXCELLENT SERVICE:
We are a small company, backed up by a large Technical Support and an even larger Course Development team. Award-winning Brokers and Real Estate Agents with decades of course writing experience are our authors.  In addition, Dearborn has knowledge scientists who know how to design the format and repetition for the best memory retention benefit.
Learn Texas Real Estate Online focuses on quality students, not quantity.  We want the most discerning student to choose us, in order to keep our state exam pass rate high.
We depend on repeat/referral business, meaning we have to provide the best service around. Most of our students come to us by way of our high Texas real estate license exam pass rate on the Texas Real Estate Commission's website.
We also offer high-quality 100% US-based support, available 7 days a week. Many of our competitors only provide support on weekdays. Some provide at least some portion of student support from overseas. Students are often frustrated by that, so if it might bother you too, ask other schools who provide their technical support and where they are located.
It seems like every month a new Real Estate school pops up online. Learn Texas Real Estate Online was approved as an online school by TREC in 2005 and was previously engaged in online technical training since 1998. With our many years of experience, we have a great understanding of what it takes for students to best learn and retain knowledge from online education. That understanding is what made our decision to go with Dearborn courses very easy.
Based in the capital city of Austin, Texas (where TREC is also located), we are dedicated to Texas and do not focus on any other state, so we are very well-informed on the Texas Real Estate Commission requirements and the Texas Real Estate market in general.
5) TEXAS-BASED/WOMAN-OWNED COMPANY:
Support your local small business and keep your money in Texas! We are one of the very few online course providers based in Texas. Most of the others are out of state such as California, Colorado, and Georgia, meaning your dollars end up in those states, not in Texas.
We have been a TREC-approved school since 2005 (you can find us on their website, but you won't find all of the others you see on the web there). Ask other schools how long they have been approved BY TREC in Texas.  Some schools are so new, they don't yet have enough history to insure their pass rate over the long haul.
6) SMALL COMPANY/BIG BENEFITS:
Don't just be a number! Our company is run by people who have won numerous customer service awards in previous corporate employment situations. We remember who our students are and we provide you with individualized assistance and quick turn-around, should any issue arise for you.
Many of our students have expressed that we "go beyond the call" to be of assistance to them. Diana Holmes, the school owner/administrator responds to our office line 7 days a week (even holidays), from 8 AM to 8 PM CST. What other Texas real estate school offers you daily access to the school owner?
Technical Support is there for you 7 days a week as well. Email is also answered by us in a very timely manner. Check out our testimonials for more praise about Learn Texas Real Estate Online.
Be sure to ask other schools what their hours of operation are and how quickly you can expect to receive responses.
---
FREQUENTLY ASKED QUESTIONS
How long will it take me to complete these courses?
This varies widely, depending on your amount of free time and previous knowledge of Real Estate sales. We recommend you study one 30 hour course per week – if you are currently unemployed and your time permits. The courses are challenging and you will be learning a lot of new information, but they are self-paced.
If you are employed full-time, set a goal of achieving completion on one course every 3-4 weeks. This will ensure that you are spending most of the 6th month of access on studying the exam prep, as you wait to hear from TREC on taking the state license exam.
In either case of being employed or unemployed, remember that Principles I and II are the most challenging of the 6 courses and the others get easier and go faster after those.
As required by TREC, you cannot access the course final exams in less than 30 hours per course. You'll see our competition advertise that you can be finished with your training in 3 weeks. Although we have seen our packages completed by students in as little as 3 weeks, this is quite a challenge.  Typically, that short timeframe is accomplished by students and brokers who are already licensed in other states and are now moving to Texas. In our 16+ years of experience in the Texas market, we have found that 2-6 months is more realistic for most people.
Dearborn recently conducted a national study and found that students are most likely to stay focused and pass the state exam within a 6-month time frame. Therefore, you are automatically granted 6 months of time on the courses when you register. This can be extended by another 1 or 3 months if an emergency arises for you – for a fee. Please be aware that extending your courses beyond 6 months voids our money-back guarantee. This is because we too have seen the highest state exam pass rates for those students who complete within six months. Our #1 goal is to have you pass the Texas real estate agent exam on the FIRST attempt. Shouldn´t that be yours as well?
How do the tests in the online courses work?
There are 2 types of tests associated with the courses themselves. First, after each chapter, there is a unit test you must get 100% accuracy on to pass. You can review and retake this as often as necessary to obtain that score. This design in the courses really forces you to retain the information before you can proceed to the next unit.
Then there is the final course exam (one per course). You must get 70% of the answers correct on these and you have 2 attempts to pass each course exam. Should you fail the 2nd attempt, the real estate commission requires you to retake that individual course, so please study hard before attempting those exams.
Course final exams (not unit tests) have to be proctored. This means an unbiased person has to watch you take the course final exams. This step verifies your identity and greatly reduces the chance of cheating on course exams.
GREAT NEWS! You can either find your own proctor or utilize our partner, ProctorFree for online proctor services. Please refer to the "Proctoring" page on our website for more information.
Be sure to find out how other schools handle proctoring and what the associated fees are. These fees can greatly increase your total cost for training. In addition, some schools that offer proctor services may only have one person providing that service and you will therefore have to wait your turn to take your exam. This is not the case with our solution. Once you are set up, you can take the exam 24/7!
NOTE: With the current social distancing suggested by the CDC, it can be very difficult to find a proctor. Please consider our online proctoring solution (see details on the Proctoring page of this website). Be aware that you can later add our online Proctor service, but the cost is increased to do so.
Will I receive books with these courses?
No, all 6 courses and the exam prep are 100% online. The online courses bookmark when you exit, so you can enter at the same point you left the course (regardless of the device used). All progress within each course is tracked for you automatically. You can purchase books with your online course order at a discount, or in our bookstore, at an additional cost, but in our many years of business and thousands of students trained, only a handful of students have felt that was necessary.
---
The Principles I and II courses are typically the most challenging, as they lay the foundation for the other courses. These courses now include over 70 NEW video clips!
Generally, we see course exam scores go higher and higher as students progress through the 6 courses. We recommend you complete the 2 Principles courses before deciding whether it's necessary to take on the added expense of ordering books. There are Key Point Reviews and unit summaries within the online courses, which you can print out and study offline if you'd like.
For a sample of how an online course and the progress tracking works, just click here for a Recampus Student Demo. Ask other schools to see a sample of their courses before you spend money on them.
Still not sure if online training is for you? We now offer a 24 hour trial period on the $399/$459 package! If you decide you don't want to keep the package, just email us within 24 hours of your purchase and we will refund your money – no questions asked. Please be aware that it does take 7-10 days for the bank transactions to occur.
Notice regarding potential ineligibility for a license based on criminal history as required by Section 53.152, Texas Occupations Code:
A criminal history may make a student ineligible for the license they seek and may request a criminal history evaluation prior to enrolling in courses or applying for a real estate, appraiser, or inspector license. Please refer to the criminal history eligibility guidelines set out in the Texas Occupations Code §53.025 and TREC Rule 541.1. They may request a criminal history evaluation by submitting a complete Fitness Determination form to TREC prior to applying for a license.

Other than all these great reasons, we're just nice people who are excited to be helping others obtain their real estate licenses. Even if you do choose another school, we want to make sure you have all the information you need to make the most informed decision. We hope this helped you in that endeavor.
Please let us know if you have any questions at all. We hope to see you studying hard on our courses soon!